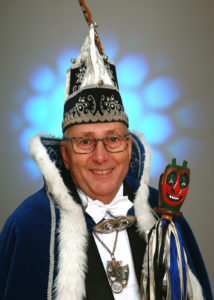 Proklamaasie Prins Ben d'n Urste
Wïj Prins Ben d'n Urste, 50e Prins Karnaval 2020, bïj de grasie van alle Waggelaars, Waggelarinnen en Fieftig-plussers. Opvolger van d'n onvergèètelukke Prins Ton d'n Urste.
Gebo.re ien Limburg, as zoon van enne kommies, ò.nder de grenspaol, ân de Wehreweg in Zitterd, ân mit tussenpöözen, via Rotterdam, al.wèr 30 jaor wèr ien Limburg. Mien é.chte groot gelùk, Trudy, "The love of my life", gevo.nden ien 't Stèdje ân de Niers, én al wèr 19 jaor geluukkig getrouwd. Saame behept mit 't vasteaovend virus. Vaoder en Stiefvaoder van twee om-mundige Kèls, Sander èn Henri die saame mit hun vrollie vier kan.jers van kleinkiender, Kirsten, Nick, Noa en Dani bezor.gd hebbe. Al van alles gedaon, beroeps soldaot as medisch instrumentenmaoker, wegrace journalist/fotograaf, eigen motorblad, buschauffeur, en laoter én eige fotozaak ien Gennep én now fanatiek lid van de Waggelaars.As grötte hobby, saame wèg mit d'n camper, wandelen, èète kaoke, plötjes schie.te, af en toe schotse mu.ziek maake en feestviere mit vrienden. Al dartie.n môl de Ninweegse vierdaagse gelope. Jaore lng lid van de vriendenclup Üm d'n Toffel"uut Gennep.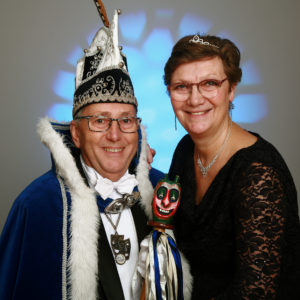 Maak de volgende benoeminge bekend
As Prinses mien èège Trudy
As Vorst, Pieter Lamers
As Urste adjudant, Jan Geurts
As Twèdde adjudant, Ben Martens
As Schorrie, Willy Arts
As Pages, Annelies van Ginkel & Dèsirèè Teunissen
Vör dizze vastelaovend worde de volgende 11 regels uutgevaordigd;
1e       Vandaag effe gèn plötjes schie.te maor mit z'n allè genie.te van vastelaovend
2e       Mien prinses, adjudànten en raod, zie.n de kómen.de daag mien steun en toeverlaot
3e       De camper stèd effe op stal dus vie.re we nu alléén nog vastelaovend
4e       Uut Limburg, of waor ôk vandaon, mit vastelaovend gaon wïj er same tègge ân
5e       Nao wa bierkés én wa glèèskes wien gèt 't lichtje uut, nim dan un lèmpke mit, dan välde nie op d'n snuut
6e       As de twee motte ien d'n jas zitte, dan zit 't schuum ien 't glas
7e       Vastelaovend mit d'n doedelzak èn drum, zien wïj hillemôl in ònze hum
8e       Wïj schuufele altied tot 't lètst, umda vastelaovend vör de Waggelaars altied om.mumdig is gewèst
9e       Mit vastelaovend zulle wïj nie verza.ke, wànt same mit de kiender en klèènkiender, gaon we d'r 'n moj fee.st van maake
10e     As 50e prins van de Waggelaars is 't èn om-mundig gebuu.re
11e     Wïj gaon er tègge ân mit ònze è.jge lèus, HARD VÖR WEINIG, MAOR NOOIT CHAGRIJNIG!! 
O JA Johhhh, soooo!!!!
Opgemakt en afgemakt 2000+1 X 11+9 = 2020
Laot 't ter krölle, van Gennep tot ien Kölle​